Jaden Carlson Band
September 6, 2019 - September 7, 2019
About The Show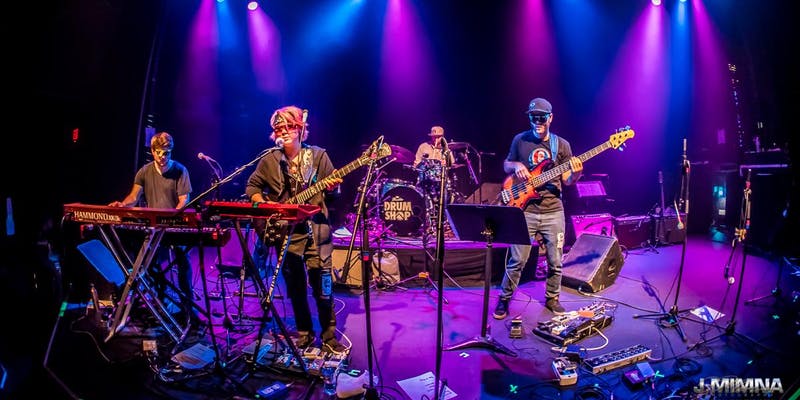 The Jaden Carlson Band is a power quartet from Boulder, Colorado, led by 18 year old guitarist Jaden Carlson. The group is comprised of some of the best talent to be heard, with varied influences coming together from all over the country. Their newest album, "Keep It Movin'", taps into their unique chemistry to develop their blend of jam, funk, hip-hop, electronic, and jazz.
Jaden Carlson is a guitarist, vocalist, keyboardist, and producer. She has a technical prowess that is unmatched by most, and a style that is well beyond her years. As the front of JCB, Jaden's jaw dropping guitar and synthesizer playing is something you won't soon forget.
Keyboardist Chris Beck can be found gigging with the best jazz, funk, and rock bands in Colorado. He adds his original style and soulful taste on keys and synths, which gives JCB one of the biggest sounds you'll find with a four piece band.
Drummer Eric Imbrosciano hails from New York, and brings his wealth of knowledge in jazz, hip-hop, and funk, to the ever growing sound of JCB. His years of experience from gigging around the New York scene are easy to hear in his solid drum work. You can catch Eric all over Colorado playing with many of the area's best musicians.
Bassist Fred Reisen's ultimate goal is to make the music feel good. Born into a musical family, his influences were honed while having a full RnB/Soul group rehearsing at his family home in New Jersey for a decade. An active member of the Colorado scene for over 5 years, he also plays bass and produces in the live electronic group Dynohunter.
The band has been appearing at some of the nation's most notable festivals: Suwannee Hulaween, Summer Camp, The Friendly Gathering, The Vertex Festival, 80/35, Bumbershoot, LEAF Festival, The Werkout Music and Art Festival, Jazz Aspen Snowmass, ARISE Festival, Bohemian Nights, Nedfest and many others.
The Jaden Carlson Band has headlined major venues all over Colorado, as well as played direct support for national touring bands Twiddle, The Revivalists, The Nth Power, The Werks, Robert Randolph and the Family Band, Kung Fu, DeVotchKa, The Motet, Robert Cray, Anders Osborne, and Marco Benevento, just to name a few.
Jaden is the youngest musician to play on the Red Rocks Stage at age 11, with Michael Franti and Spearhead, and again the next night with Blues Traveler. She has also had numerous sit-ins with Umphrey's McGee, The Revivalists, Lettuce, Dumpstaphunk, The Main Squeeze, The Nth Power, Twiddle, The Werks, TAUK, SOJA, Zoogma, The Motet, Dopapod, members of Snarky Puppy, Vulfpeck, Big Gigantic, The String Cheese Incident, and many more.