Joanna Connor
September 12, 2019 - September 13, 2019
About The Show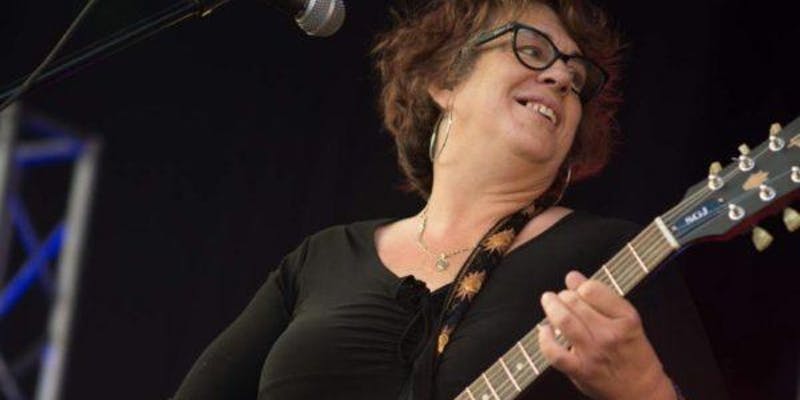 No doubt you've seen it by now: That viral video of a woman onstage in a bright purple dress, playing one absolute scorcher of a slide guitar solo. That's Joanna Connor in her home turf of Chicago, with the firepower she delivers to local crowds on a nightly basis.
That video has gone around the world a few times, getting millions of views and being re-posted in Japan, Russia and all over Europe. The viral phenomenon ironically happened while Connor herself has been off the road and out of the studio, devoting herself to being a mom and playing club residencies—not exactly laying low, since she does around 200 shows a year.
But a studio return was long overdue and "Six String Stories," her first album in a dozen years, is the one that the fans who pack her hometown gigs have been waiting for. You'll still hear the scorching solos– "Halsted Street" alone has enough wattage to light up a few cities—but there's more to Joanna Connor than that. The disc's ten tracks include tastes of gospel, rock, soul and funk; all with the gutsy singing and heartfelt playing that have always been her trademarks.
Connor wrote eight tracks with Marion Lance Lewis, a mainstay of her live band (playing bass onstage, but here's he's on drums and synthesizer as well). One of the exceptions is a live version of Elmore James' classic "The Sky is Crying"—a quieter moment from the very same gig that produced the video. Credit the album's diversity to her tireless live shows, which can go up to five hours on a weekend. "An audience wants to be taken on a journey, I have a pretty big catalogue of songs and you can read the crowd for what it wants to hear. I've been drawing a lot of millennials lately and as the audience gets younger, the music gets heavier—but I'm starting to do acoustic shows as well. It's all part of the palette of what I do, and it's always gone all over the map. When people ask me who I listen to I always say, 'Oh, man. Who don't I listen to?"
Connor's original hometown of Worcester, Massachusetts is seldom named as a blues hotbed, but she was never one of those rock & roll kids who came to the blues secondhand. "My mom was actually the big influence in my musical life; she listened to blues, folk and rock as much as she could. So I heard Buddy Guy and Taj Mahal when I was a kid, and got into the more obscure artists as I went on. And I saw all the Chicago bands who came through town." By her mid-teens she was playing the Worcester and Boston clubs with her own band, then moved to Chicago in 1984. Once in town she learned from the best, sitting in with the likes of James Cotton, Buddy Guy and Junior Wells. After a spell in Dion Payton's band, she launched her own group which debuted with 1989's Believe It. A string of acclaimed albums followed, and in 2002 she made her MC label debut with The Joanna Connor Band— perhaps the first album to display the full scope of her music. To name just one moment, the charging rocker "Different Kind of War" was followed by a funky cover of "Slippin' Into Darkness," representing a different kind of War altogether.
But just as the accolades were rolling in, Connor began her touring hiatus. "There were several factors: 9/11 had just gone down, the economy was changing and clubs were closing. But most of all, my daughter was pretty young at the time. She wound up deciding she wanted to become a big-time basketball player, so that required some dedication on both our parts." That dream wound up coming true: Last year her daughter was awarded a basketball scholarship to Indiana State University, while her son is pursuing his own musical career.
While Connor couldn't get out to the audiences, they started coming to her. She debuted at the Chicago club Kingston Mines back in the '80s and still plays there three nights most weekends, between gigs at larger clubs and festivals. "It's become kind of an institution: You go to Chicago, you go to Wrigley Field and then you go see Joanna Connor. The schedule is kind of brutal, but it's great—Usually a packed house, with lots of adrenaling pumping. When it gets to be around midnight, the audience starts getting younger. And I love that—My son is 29, and he gets people looking at him and saying, 'That's your mom'?"
The crowds only increased after the video—lifted from a live version of "Walkin' Blues" and posted by a Massachusetts fan whose handle was Sodafixer2—appeared two years ago. "It was just a phenomenal thing that happened. I was getting calls from America's Got Talent and movie people reaching out; I even had a Russian billionaire fly me to Spain to play a birthday party. I think people loved the combination: Here's a woman who looks like somebody's mom, and she's playing like this. What I remember most was that it was 90 degrees that day, so I was wearing the coolest dress I had."
After all that wood-shedding, it's no surprise that "Six String Stories" is her most accomplished album. But Connor admits that it took some coaxing to get her back into the studio. "I'll give Lance credit for starting the ball rolling. He was the drummer in my band before switching to bass, and he plays both on all the studio tracks. This was the first time I ever collaborated with one musician to such a degree. I've always been a live musician and going into the studio used to be a daunting, scary thing. But you know what, the older I get the more comfortable I am with myself. I don't listen to the outside voices in my head, I just go with it."
That sense of self-determination extends to tracks like the empowering "It's a Woman's Way" and the closing "Young Woman Blues," which gives her daughter a little romantic advice. "She broke up with her first boyfriend before the prom, so I wrote that for her." Then there's the album's other cover, Jill Scott's "Golden," which Connor makes her own with a forceful spoken part. "It's about a woman taking control of her life, and praising the creator for giving it to her. I think the gift of approaching middle age is that you know who you are and become confident in yourself. For me that's been a real journey, and a lot of it is about your own attitude."
At the other extreme are guitar-slinging tracks like "Halsted Street" ("I went for a Metallica kind of sound on those power chords," she says) and the Bayou-inspired "Swamp Swim." Then there's "Heaven," which takes everything back to church. "I wrote that as more of a political song with a West African feel, but Lance gave it more of a gospel sound. His brothers are pastors and have churches, so they brought that kind of feel into it."
With the album finished and her daughter at school, Connor is finally planning to hit the road. And trends aside, she feels the time's as right for the blues as it ever was. "There's been a healthy scene forever, with a lot of younger artists coming up—Of course, younger in the blues means anyone under 50. But a new generation comes up as the golden artists start to pass, the music gets a more modern approach. It's constantly evolving, but it's still there."