Kitchen Dwellers
January 26, 2020 - January 27, 2020
About The Show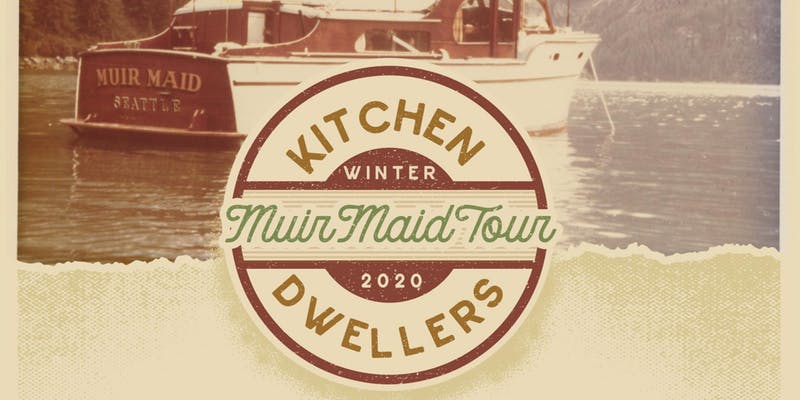 "This all started as a series of jam sessions in the kitchen," says Joe Funk, bassist for the breakout progressive bluegrass band Kitchen Dwellers. "We were getting together to play covers and traditional music and old-time tunes for fun after school, and everything else just evolved from there."
For Kitchen Dwellers, "everything else," as Funk so modestly puts it, has been nothing short of remarkable. In the near-decade they've been together, the Montana-based four-piece has performed for thousands at Red Rocks, shared bills with the likes of Railroad Earth, The Infamous Stringdusters, and Twiddle, graced festival stages from Northwest String Summit to WinterWonderGrass, and transcended traditional genre boundaries, blending virtuosic bluegrass wizardry with ecstatic rock and roll energy and adventurous psychedelia. With their spectacular new album, 'Muir Maid,' the group has come fully into their own, seamlessly blending the past, present, and future of string band music to create their most daring and collaborative work yet.
"This is the first record with all four of us contributing to the writing together," says guitarist Max Davies, "and the songs really reflect that. You can hear each of our different backgrounds and influences in the music, and you can also hear how much we've grown in the last few years on the road, both as individuals and as a band."
Produced by The Infamous Stringdusters' Chris Pandolfi, 'Muir Maid' is built around live performances that capture the intoxicating energy of band's concerts and showcase their dazzling musicianship, airtight harmonies, and transportive storytelling. Lightning-fast fretwork and brilliant solos abound on the record, but far from showing off, the instrumental pyrotechnics here always come in service of the song, a guiding principle for the group.
"The person who wrote a particular tune isn't always the one who ends up singing it," says Davies, who shares vocal duties with all three of his bandmates. "We base every decision off of what's going to be best for the track, and to me, that's the true definition of collaboration."
'Muir Maid' follows Kitchen Dwellers' acclaimed 2017 LP, 'Ghost In The Bottle,' which was produced by Leftover Salmon's Andy Thorn and featured a slew of special guests, including Little Feat's Bill Payne and Greensky Bluegrass's Anders Beck. Tracks from the record racked up more than a million streams on Spotify and garnered rave reviews across the board, with The Huffington Post hailing the band as "a bluegrass phenomenon" and Relix praising the unique way the group's songwriting "embrac[es] their love of electronica, metal…and everything in between."
Kitchen Dwellers are:
Max Davies – Guitar
Joe Funk – Bass
Torrin Daniels – Banjo
Shawn Swain – Mandolin