Matador! Soul Sounds
September 26, 2018 - September 27, 2018
About The Show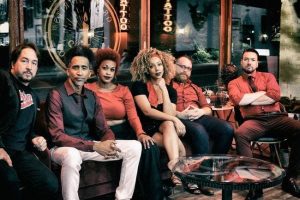 Matador! Soul Sounds is a jazz, funk and soul band co-founded by Eddie Roberts and Alan Evans. The band makes original music and tours the world!
Matador! Soul Sounds is a band loosely based on the concept of Spanish bullfighting. A common misconception in America is that bullfighting is a feat of one man versus one bull—in reality, bullfighting is largely a team effort by a matador and his cuadrilla.
Born from the vision of Eddie Roberts (The New Mastersounds) and Alan Evans (Soulive) their fierce cuadrilla consists of keyboardist Chris Spies and bassist Kevin Scott (Jimmy Herring) as the band's "banderilleros". Adding a feminine energy to the band are Adryon de León and Kimberly Dawson (Pimps of Joytime) on vocals. Combining the dynamism of each band leader, the music they have created is brand new, hard hitting and drenched with their shared musical passions – jazz, funk & soul.
The band made their official World Debut at Live for Live Music's Brooklyn Comes Alive 2017 and will be touring in the summer of 2018 behind their first full length EP "Get Ready".