PTA String Fling Ft. The Sweet Lillies
April 7, 2023
About The Show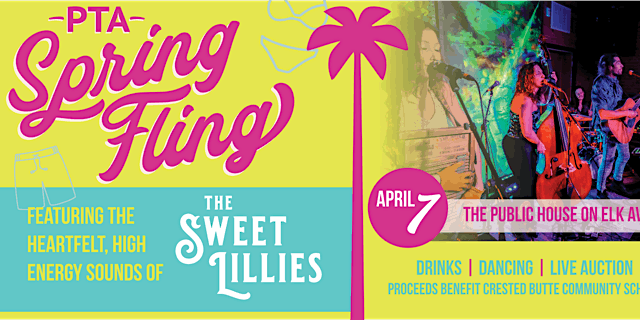 Come support the PTA and the beautiful sounds of the Sweet Lillies live at the Public House on Friday April 7th!!
Pushing the boundaries of Americana music
Jamgrass band The Sweet Lillies play school fundraiser April 7
By Cassie Pence
At first glance, The Sweet Lillies look like your typical Americana string band — upright bass, viola, acoustic guitar, the occasional washboard. But give a listen and you'll hear a melting pot of sounds, just like America, that include all of the members' roots and influences, including rock, funk, hip hop and rap.
The band is pushing the boundaries of Americana music, and people are taking noticing. They set off this month for a third stint on Jam Cruise, followed by a cross country tour with Sicard Hollow and Sweet Pixie and the Partygrass Boys and WinterWonderGrass in Tahoe.
Then, the Sweet Lillies return to the Public House, April 7, to play the Crested Butte Community School's Spring Fling, the PTA's annual school fundraiser. Tickets are now on sale at Public House's website (www.publichousecb.com).
"Our sound is really a conglomeration from the different backgrounds and influences each member has. I wanted to blend genres and to do something outside the box," Julie Gussaroff said, bass and vocals.
Guitarist Dustin Rohleder hails from the jam band, jam grass scene in his hometown community of Chico, Calif.
"He was one of the most sought after guitarist in his area, and we found him and took him on the road. His influences are rock and roll and a lot of funk," Gussaroff said.
Violist and violinist Becca Bisque is classically trained and has played in the orchestra setting. She loves the darker, moody music of Tom Waits and Modest Mouse and brings in those melodic ideas to the group's songs. Surprisingly, she also raps.
"I heard Becca rap in a rehearsal, and said 'you are really good at it.' It took me a year to get her to rap on stage, and now she is writing original hip hop songs," Gussaroff said.
The band's newest album, produced by Chris Pandolfi, banjo player for the Infamous Stringdusters, includes three to four of those original hip hop tracks written by Bisque.
The Sweet Lillies recently added a drummer, Jones Maynard, from Atlanta, and he flows in his jazz and hip hop beats to the underlying bluegrass sound.
Gussaroff is a multi-instrumentalist and classical trained vocalist. She says she considers herself a bonafide singer-songwriter, like one of her influencers, Bob Dylan.
Gussaroff set off to create a true music collective in The Sweet Lillies, and she said all the members are involved in crafting the band's originals and unique sound.
"Our sound is born of all four people," she said.
The Sweet Lillies are really looking forward to the upcoming tour and hitting the jam scene. They love the festival vibe, as it feeds their own vibe on stage, pushing their sound and music to grow bigger.
"We love a big audience, we jam more," Gussaroff said. "Public House brings a high energy crowd … they rage, we rage!"
Tickets are now on sale for Crested Butte Community School's Spring Fling, the annual PTA school fundraiser, at the Public House, April 7, featuring The Sweet Lillies. There will be drinks, dancing and live auction. Spring break inspired costumes encouraged with plenty of paper leis to go around. Interested event sponsors can contact PTA Vice President of Fundraising Emily Henkel at [email protected].