Trout Steak Revival w/ Woodbelly
February 8, 2020 - February 9, 2020
About The Show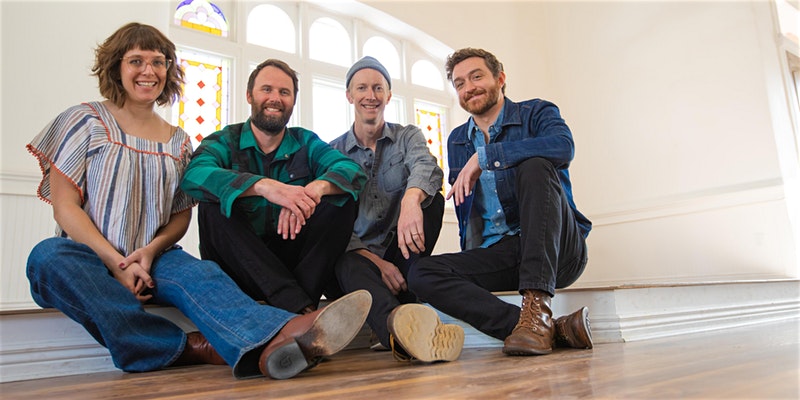 When TROUT STEAK REVIVAL won the Telluride Bluegrass Festival Band Competition in 2014, they emerged on the roots music scene to listeners anticipating the often–heard dose of progressive bluegrass with a hint of jam.  Their unique brand of mountain music stood out, though, and quickly the band caught the attention of fans and folk radio DJs alike. Over the last three years, the Colorado quintet has further refined its style and, with SPIRIT TO THE SEA, delivers a mesmerizing and soul-quenching array of original songs resonating with the finer points of folk and Americana.  Produced by Chris Pandolfi of Grammy-winning The Infamous Stringdusters, the new album is a reflection of the depth and honesty of songwriting that is possible when a trusting and encouraging band of friends grows together into a band of musicians.
With each individual contributing lead vocals and instrumentation to the band's collaborative songwriting process, TROUT STEAK REVIVAL is more than a sum of its five parts.  BEVIN FOLEY (fiddle), STEVE FOLTZ (guitar & mandolin), CASEY HOULIHAN (bass), WILLIAM KOSTER (guitar & dobro), and TRAVIS MCNAMARA (banjo) take turns singing lead and harmonies throughout the album, and such sharing of the vocal ensemble roles creates a diverse and satisfying blend of musical offerings to listeners. Most of the band members of TROUT STEAK REVIVAL originally hail from the Midwest, but their lives, their musical endeavors, and the band's identity now hold roots in Colorado.  Inspired by and embodying the popular live music scene in Denver and Boulder, TROUT STEAK REVIVAL is emerging as the quintessential Colorado band. Named by Denver Westword as "Best Bluegrass Band" in 2016 and 2017, and chosen by the State of Colorado to represent the culture of its citizens on a Today Show appearance, the band draws constant recognition for its wholesome message and down-to-earth sound.
To succeed, though, a band must grow, and SPIRIT TO THE SEA expands TROUT STEAK REVIVAL's repertoire beyond Colorado bluegrass without leaving behind the communal nature of the band's origins. The new album is more diverse and inviting than their past albums, rolling out the carpet for new fans with many different tones, vibes, and topics underlying the songs.  Whether listeners are in search of a deep connection with lyrics or simply need a good melody to dance to, SPIRIT TO THE SEA provides a mix of music that is a pleasure to relate to. Songs crafted out of love, fear, heartbreak, wonder, joy, and freedom provide a glimpse into the soulful depth of the individual members of TROUT STEAK REVIVAL and hearken back to emotions all our own.
ACCOMPLISHMENTS
2019:    IBMA Official Showcase Band
Bank of Colorado TV/Radio Commercial Placement
2018: Folk Alliance Official Showcase
Bank of Colorado TV/Radio Commercial Placement
2017:   Americana Music Fest Official Showcase
Folk Alliance Official Showcase
Denver Westword: Best Bluegrass Band Award
Bank of Colorado TV/Radio Commercial Placement
TEDx Mile High Speaker/Performer
2016:   IBMA Official Showcase Band
IBMA Momentum Band of the Year Nominee
Denver Westword:  Best Bluegrass Band Award
Winner: Cayamo Soundcheck Competition
Bank of Colorado TV/Radio Commercial Placement
2015:   Today Show Appearance
2014:   1st Place: Telluride Bluegrass Festival Band Competition
2013:   Heartland Emmy Award, Short Web-Based Documentary (Trout Steak Revival wrote the soundtrack)
QUOTES
"Trout Steak Revival is Colorado's next great bluegrass band" – Emerald O'Brien, Westword
"On-point harmonies, prime musicianship, and booming, palpable bluegrass camaraderie….one of the year's most reliable bluegrass offerings of the year." —Jonathan Frahm, PopMatters
"Spirit to the Sea is every positive that Brighter Every Day had, but performed with that much more can-do gusto that brings the band more in-league with seasoned acts like the Stringdusters themselves. They bring rock sentiment to bluegrass methods, creating a sound that will get you up on your feet to dance a jig without at all sacrificing the storytelling that the latter genre has always been known for at the center of its work." – Jonathan Frahm
The band's potent harmonies are enriched by their instruments; the slick sweetness of the fiddle and guitar, the rich boom of the bass and the twang of the banjo and mandolin all come together to create not just a song, but an experience." – Elmore Magazine.
"Trout Steak Revival continues to realize their amazing potential as a band, upping their musical game and gaining new fans all across the country. They are committed to making an original statement that's soulful and vibrant, and their new album, Spirit to the Sea, is the best example of that yet. The band members all write, sing and play like pros, but the collective takes precedence, and that is what truly sets them apart. Trout Steak is making beautiful, lasting music, and I feel very lucky to be a part of the process. -Chris Pandolfi, Infamous Stringdusters
"Colorado's Trout Steak Revival is a truly joyful experience. If you're into soaring harmonies, top notch musicianship and memorable tunes, don't miss this five piece string band's original sound and dynamic live show." -Ana Lee, Lightning 100, Nashville, TN
"With almost other-worldly picking agility, Trout Steak Revival's latest album Spirit To The Sea takes the insanely broad and sturdy foundation that the band has built since their 2008 inception and continues to build level after level of skyscraping new heights"- Marquee Magazine
"With a little something for everyone (including new and old fans alike), Spirit To The Sea shows huge growth on the part of the band, with the group offering a collection of deeply honest songs augmented by the group's tight vocal harmonies and excellent musicianship across the board, both individually and as a whole…Highlighting why the group has consistently won bluegrass awards, "Feeling So Good" shows the band at its finest, with its somewhat darker tone and rich sound contrasting well against the tune's impassioned lyrics."- Live for Live Music
"The album, produced by The Infamous Stringdusters' Chris Pandolfi, highlights the best attributes of this bluegrass force as they maintain their natural, string-focused crystalline sound and strong, tight knit harmonies; the connection between these amazing musicians is palpable, its power radiates through every song."- Mother Church Pew
"Trout Steak Revival is one of the new generation of bluegrass bands emerging from the Colorado bluegrass scene mixing traditional bluegrass with indie band style and intensity." – Twangville